Animal Research
ACNP Statement of Principles on the Ethical Use and Care of Animals for Research, Testing, and Education in Neuropsychopharmacology
This Statement of Principles is intended to serve as an ethical guide for neuropsychopharmacology research and education using animals, performed by the members of the ACNP.
Why is Animal Research Important?
Information about Animal Research
American Association for Laboratory Animal Science (AALAS)
This site offers numerous public downloads suitable for the classroom, including: Caring for Animals in the Classroom, Together for Life Classroom Calendar, and Careers in Biomedical Research
Policies on the Use of Animals in Research
Biomedical Research Awareness Day (BRAD) / ACNP/AMP BRAD Fellowship
Named for Biomedical Research Awareness Day (BRAD), an annual science celebration, this fellowship seeks to raise awareness about the essential role of animal research in neuropsychopharmacology and other related fields. The ACNP/AMP BRAD Fellowship is open to early career scientists in the field of neuroscience, psychology or pharmacology. Applicants must support humane, essential animal research and have a passion for scientific communication and advocacy. Apply to be the next ACNP/AMP BRAD Fellow! Applications are due June 1, 2023. Click here to learn more. 
Zoe Donaldson, Ph.D.

Karen Szumlinski, Ph.D.

2022 Animal Research Committee Poster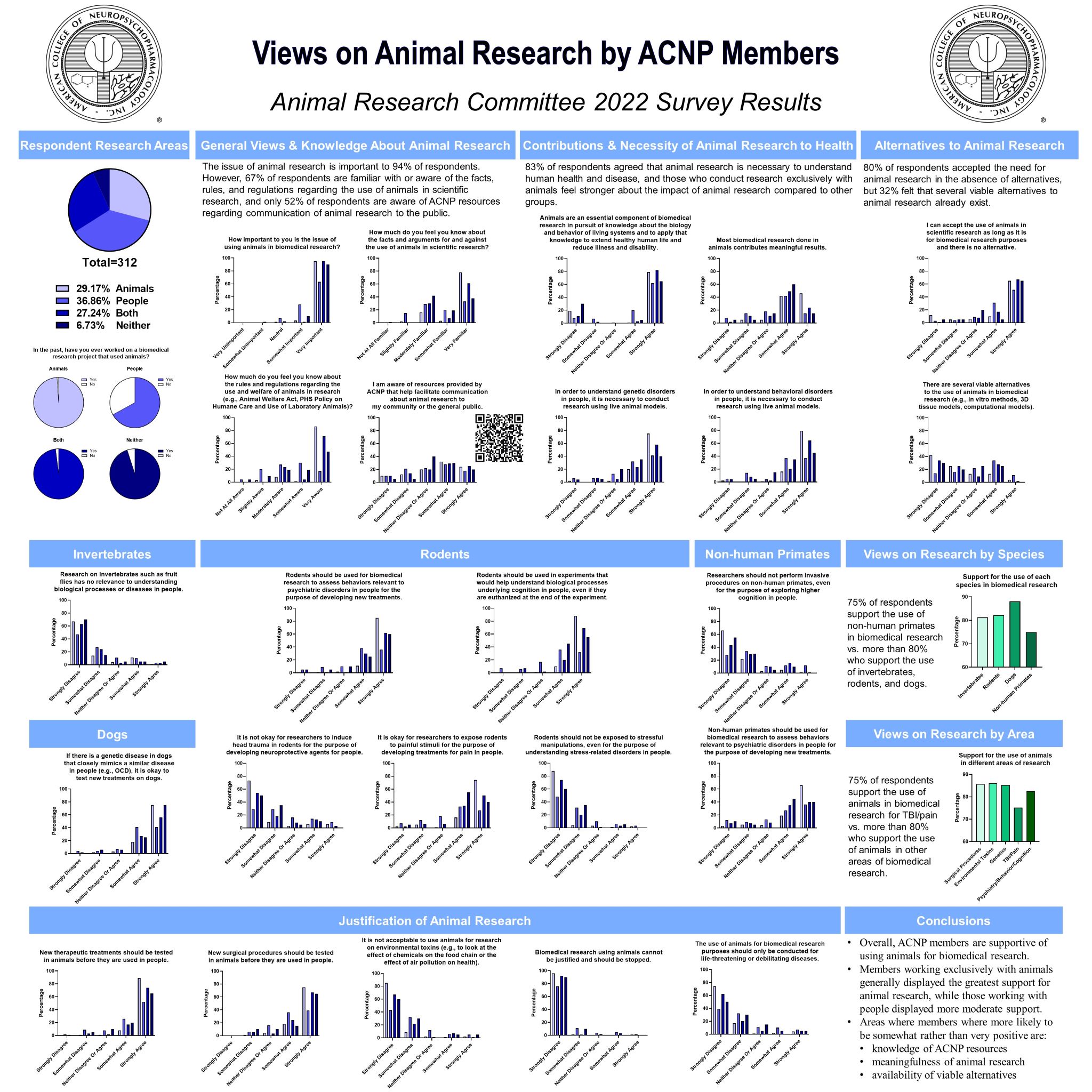 Selected Educational Resource Papers on the Responsible Care and Use of Animals in Research
This page is for ACNP members only.
How to prepare for and respond to opposition from animal rights groups?
This page is for ACNP members only for proactive steps/materials and additional information should you become a target of animal rights groups. In the event you, your lab, or your research are targeted by animal rights activists, please contact your institutional representatives immediately. These individuals often are in the Office of the Dean or Vice-Chancellor for Research or the Office of Public Relations. If there is any threat, immediately contact campus and local police.
BRAD 2023 is just around the corner! Register for your BRAD box by April 1st to celebrate on April 20th. Any celebration - big or small - is important as we work together to show support for animal research and to educate the public on the role of animals in medical advancements.
In Memoriam to Dr. Robert Hirschfeld, @ACNPorg Emeritus Fellow. Dr. Hirschfeld was well known for development of the Mood Disorder Questionnaire (MDQ), one of the most widely used screening assessments for bipolar disorder.

https://www.nature.com/articles/s41386-023-01565-9
It's #WomensHistoryMonth! This month, and throughout the year, we celebrate the legacies of women in the field of psychiatry, both past and present, who have advanced the field and improved the lives of those with mental health issues.