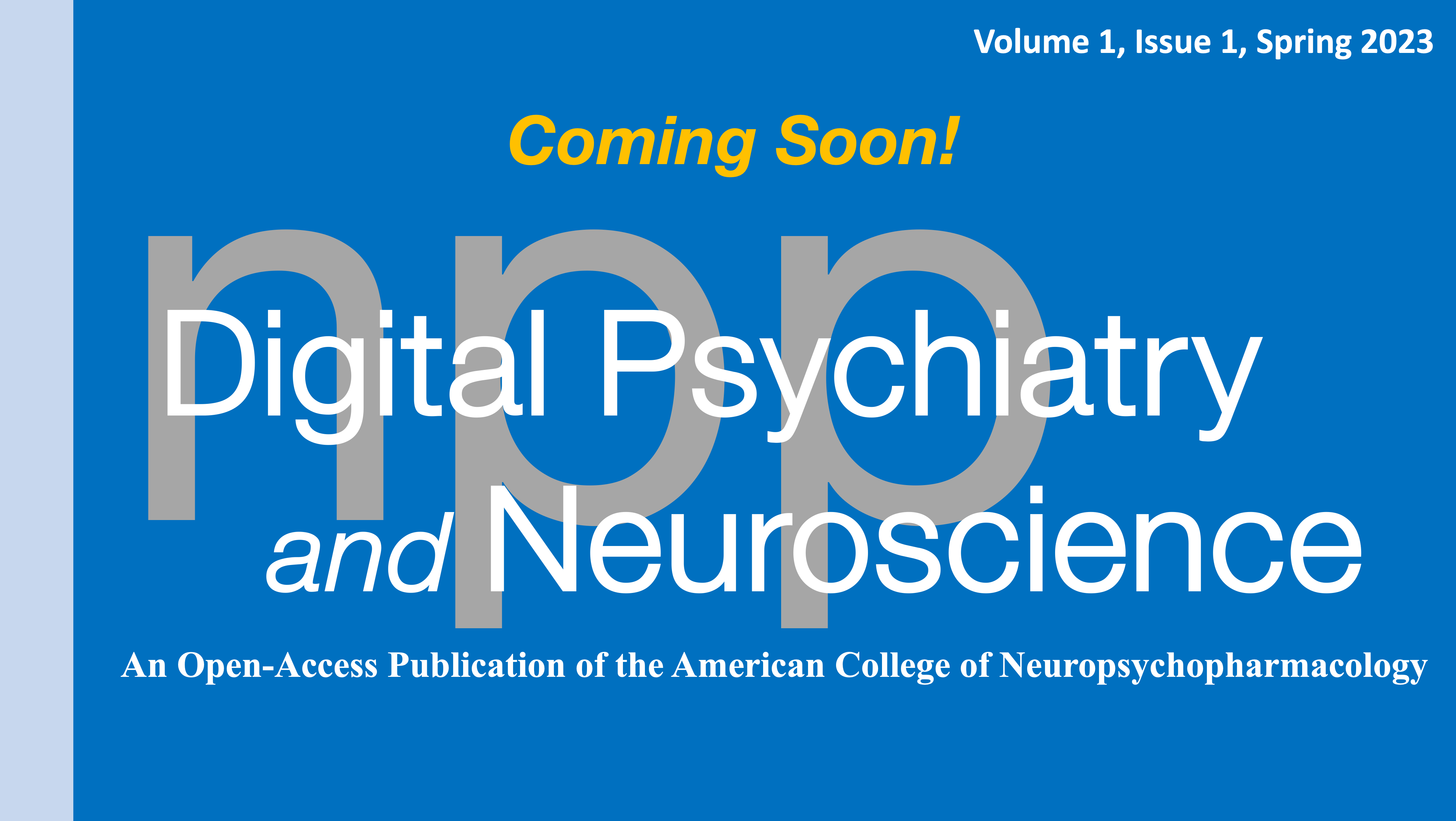 NEW ACNP JOURNAL: NPP-Digital Psychiatry and Neuroscience
The ACNP is delighted to announce that it is launching an Open-Access, online-only journal entitled NPP-Digital Psychiatry and Neuroscience.  This new journal will function in parallel with the flagship ACNP journal, Neuropsychopharmacology (NPP).
The scope of NPP-Digital Psychiatry and Neuroscience will cover research that involves the use of digital technologies, including (but not restricted to) smart devices, wireless telemetry, motion sequencing, artificial intelligence, machine learning, bioinformatics, and computational approaches in the diagnosis, treatment, prevention, and study of psychiatric illnesses.  This journal will prioritize publishing research that is translationally relevant (endpoints that can be used across species), and involves data sets that are continuous (collected over time) and objective (requiring minimal direct human observation).  Led by Principal Editor William A. Carlezon Jr., NPP-Digital Psychiatry and Neuroscience will have an editorial team with expertise in these domains.
The ACNP will soon be seeking researchers with active programs to serve as Handling Editors for portfolios including Studies in Humans, Studies in Animals, Molecular Approaches, and Computational Approaches, as well as a Social Media Editor.  Candidates will be considered based on individual merit and without regard to race, religion, national origin, veteran status, disability, sexual orientation, sex, or age.  Please watch this space for updated announcements.
We look forward to welcoming this new journal and its team of inaugural editors to the ACNP family.
Please submit your name and email address here to stay up to date with new information on NPP-Digital Psychiatry and Neuroscience!
Journal Leadership & Management:
Founding Organization: The American College of Neuropsychopharmacology (ACNP)
Principal Editor: William A. Carlezon Jr., Ph.D.
Sibling Journal: Neuropsychopharmacology (NPP)
Journal Aims & Scope:
NPP-Digital Psychiatry and Neuroscience aims to be the leading publication for research that employs the use of digital-based methodologies for the collection and analysis of psychiatry data. This Open-Access, online-only journal will serve as a trusted resource for those researchers involved in the study, diagnosis, treatment, or prevention of psychiatric illness. As such, the journal focuses on brain conditions which are characterized as psychiatric disorders, while excluding other brain conditions that may otherwise be more broadly characterized as neurological disorders (as examples: Amyotrophic Lateral Sclerosis, Epilepsy, Multiple Sclerosis, Parkinson's Disease).
To qualify for consideration in this journal, research should involve digital data collection (e.g., via smart phones, wearables, implantables, videotaping, motion sequencing, or other methods of tracking) and/or analyses (e.g., via machine learning, artificial intelligence, computational and/or bioinformatics) in humans or model systems, including laboratory animals of various species.
Submissions to NPP-Digital Psychiatry and Neuroscience should include data that meet the following criteria:
Translational relevance (endpoints similar or identical across species),
Continuous (involving sustained or repeated data collection), and
Objective (collected, analyzed, and interpreted via methods involving minimal subjective judgements and/or anthropomorphic projection of human traits).
Successful articles will provide novel and impactful insights that advance the diagnosis of psychiatric illness or its core features, characterization of cellular mechanisms, assessment of therapeutic efficacy, identification of new therapeutic targets or methods, and/or prevention of new cases. The focus on translational alignment is intended to promote improvements in the ability of model systems to predict outcomes in humans and hasten the development of transformational treatments for psychiatric illness.
BRAD 2023 is just around the corner! Register for your BRAD box by April 1st to celebrate on April 20th. Any celebration - big or small - is important as we work together to show support for animal research and to educate the public on the role of animals in medical advancements.
In Memoriam to Dr. Robert Hirschfeld, @ACNPorg Emeritus Fellow. Dr. Hirschfeld was well known for development of the Mood Disorder Questionnaire (MDQ), one of the most widely used screening assessments for bipolar disorder.

https://www.nature.com/articles/s41386-023-01565-9
It's #WomensHistoryMonth! This month, and throughout the year, we celebrate the legacies of women in the field of psychiatry, both past and present, who have advanced the field and improved the lives of those with mental health issues.