The 2012 Annual Meeting included a number of events specially designed to address the needs of Associate Members and other junior scientists who may seek membership in the future. On Monday night in the poster session, there was a poster titled 
"Membership Advisory Task Force: Feedback, Challenges, and Solutions in 2012"
. This poster, created and presented by members of the our task force, highlighted 2012 survey data revealing what aspects of the college are valued by Associate Members – and also what they dislike. To help enhance transparency and diminish mystery about the membership application process, the poster also showed statistics describing the age, gender, and H-index of applicants who were accepted into the college as full members and associate members in the past 3 years.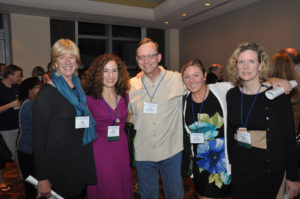 There was great traffic at the poster, and many stopped to ask questions and react to the information. Some expressed concern about changes for the future that had been approved by Council, such as the capping the "years since training" eligibility criterion for Travel Award Applications. This change, which will be rolled out in increments over three years, is intended to create more opportunities for individuals who are earlier in their career development trajectories to win ACNP travel awards, and to diminish the assignment of those award monies to more accomplished scientists who already have grant funding and are more likely to have other resources for supporting their travel expenses. Others who visited the poster expressed worry about the new requirement that no more than 10 years lapse from completion of training to the point of application for ACNP Associate Membership (previously it was 15 years).  Committee members explained that this change came in response to concerns that there were not enough associate membership slots for relatively junior scientists to enter the college. With this new requirement in place, applicants who are beyond 10 years from their last year of training will now submit application materials for consideration of acceptance into regular Member slots, rather than take spaces in the Associate Member pool. Committee members at the poster also included news that the membership accepted an amendment of ANCP bylaws to increase the number of Associate Members accepted into the college each year to 25, instead of 15 (the current limit). All of these steps are intended to attract and retain more junior scientists interested in ACNP, and to make it possible for the best junior candidates to make it to the meeting and to gain access to Associate Member slots.
For the second year in a row, the Membership Task Force sponsored a career development panel discussion at the annual meeting: "Special Session for Associate Members: Ask the Experts: Peer Review." This year's panelists included Drs. William Carlezon, Marlene Freeman, Robert Friedman, John Krystal, Lisa Monteggia, and Nora Volkow. The central topic was peer review, and some of the issues addressed are summarized here: Reasons for junior investigators to perform peer review of manuscripts and grants:  Panelists encouraged participation in peer review because it is part of being a good citizen in our academic community; it can help one become a better writer; it facilitates networking and establishing connection others in your field (for example, during study section). Tips for writing a good review:  Panelists spoke of common mistakes/pitfalls to avoid. A common thread in the discussion was being tactful and constructive in comments and avoiding a mean tone during peer review.  How to determine the boundaries relevant to conflict of interest? A common response to this query was what this is very gray area, and that decisions will vary depending on the review venue (e.g., manuscript review vs. grant review; NIH vs. non-profit foundation). One suggestion was to always feel free to bring questions about conflict to the journal editor or the person coordinating the grant review.  What a reviewer should do if he/she knows something about the study that isn't transparent in the proposal/article submitted for publication, especially when the omitted information negatively impacts the reviewer's assessment of the manuscript? Again, it was recommended that reviewers discuss this with the editor or scientific review administrator. How does one become a member of a journal editorial board or study section? It was strongly recommended that junior investigators do this whenever the opportunities arise.. For editorial boards, it was noted that investigators asked to join a board typically had written multiple reviews for that particular journal, were seen as fair reviewers, and submitted their reviews on time. For study section, it was suggested that directly contacting the scientific review administrators for study sections that match one's area of expertise is an excellent way to make known an interest and willingness to review grant proposals.
Overall, the panel discussion was very well attended and highly valued (based on post-meeting survey results). One criticism submitted was that many meeting attendees assumed that this special panel session was only open to an audience of ACNP Associate Members. Actually, it was intended for anyone who felt they might benefit from the discussion and from mentorship pearls from a panel of "experts" on the topic of peer review. Next year, the Membership Task Force will have a different title for the career development sessions at the meeting, and will take steps when advertising the session which hopefully make clearer that all are welcome to attend.
Hats off to NPP for their Impact Factor increase!!!
ACNP is now accepting Honorific Award nominations. Deadline is June 28th to submit. https://t.co/xQlJP2Id6c #ACNP2020
Discovery of LSD1 inhibitor with improved safety https://t.co/woJ2dDT4we #nppjournal #mentalhealth